Who is online?
In total there are
2
users online :: 0 Registered, 0 Hidden and 2 Guests
None
Most users ever online was
185
on 2012-03-02, 03:03
March 2019
| Mon | Tue | Wed | Thu | Fri | Sat | Sun |
| --- | --- | --- | --- | --- | --- | --- |
| | | | | 1 | 2 | 3 |
| 4 | 5 | 6 | 7 | 8 | 9 | 10 |
| 11 | 12 | 13 | 14 | 15 | 16 | 17 |
| 18 | 19 | 20 | 21 | 22 | 23 | 24 |
| 25 | 26 | 27 | 28 | 29 | 30 | 31 |
Calendar


On Tuesday, April 24th, I had randomly participated in Dorney Park's "Stinger First Rider" contest on Twitter - the question of the day happened to be of what year did Cedar Fair purchase Dorney Park? The nineth winner to answer correctly will receive two free tickets and two seats reserved for Stinger first riders. Sure enough, I was the nineth person to answer correctly which led to this unexpected trip - so let's get started!
The day called for morning sun, giving way to clouds with possible late afternoon rain showers with temperatures in the lower to mid-50's. The weather cooperated to our expectations and it turned out to be a bit warmer, sunnier and most of all, no rain! The park wasn't busy at all except for a few bus groups that showed up which brought more people in but overall, waits were minimal to non-existant with the exception of a few things.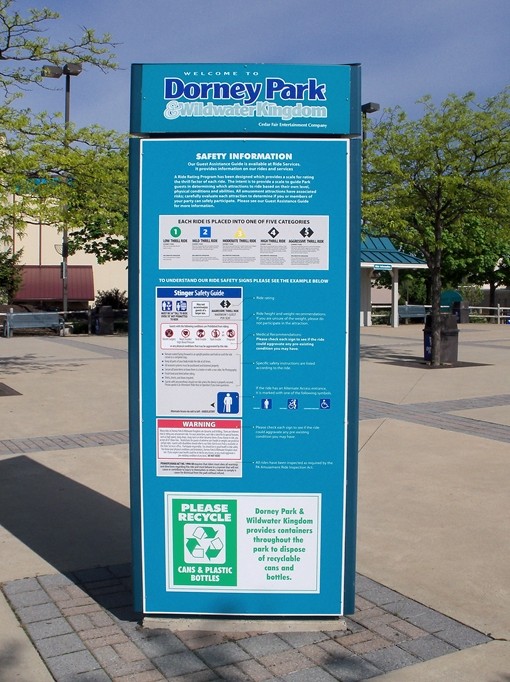 They're now using Stinger as an example for the Rider Safety Guide signs.
The first riders were required to be at the park no later than 9:15 a.m. Once we were there, I had to pick up my two complimentary tickets at Guest Services. When they let people into the park, the first riders were required to immediately head over to Stinger to check in and receive their free Stinger t-shirts!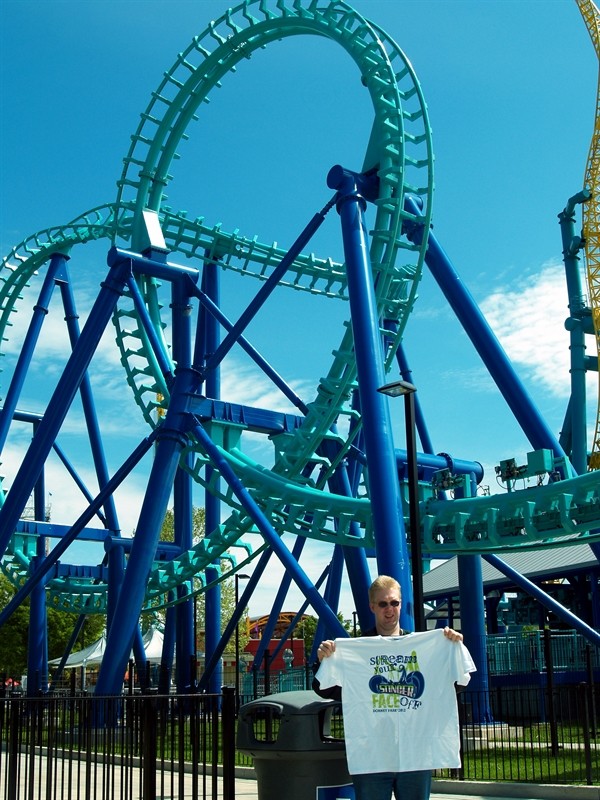 Here's me with my complimentary Stinger t-shirt.

After picking up our shirts, the first riders and their guests were then escorted into the station while we waited for the ride operators to finish up conducting test of the ride. While they were doing this, I was able to get a few shots from the queue and of the trains in the station (with no riders of course):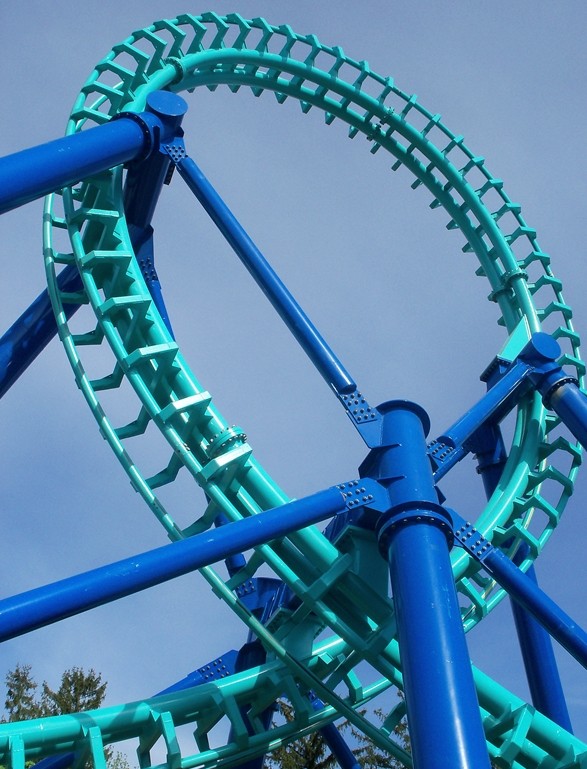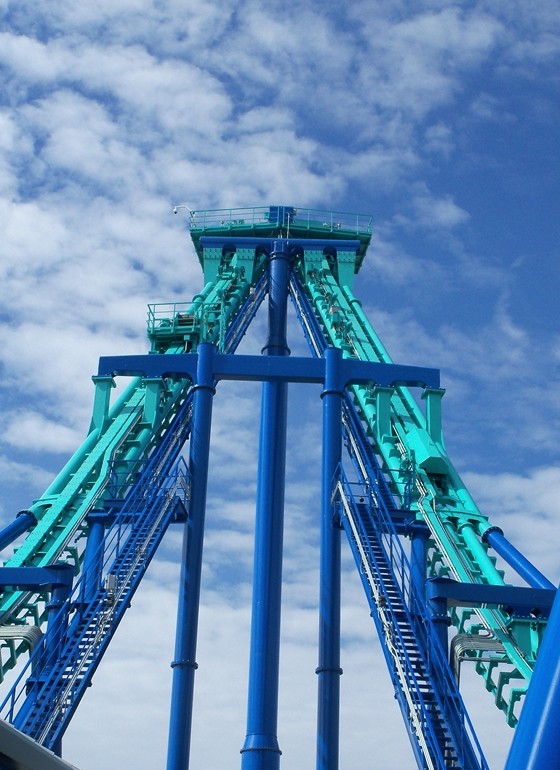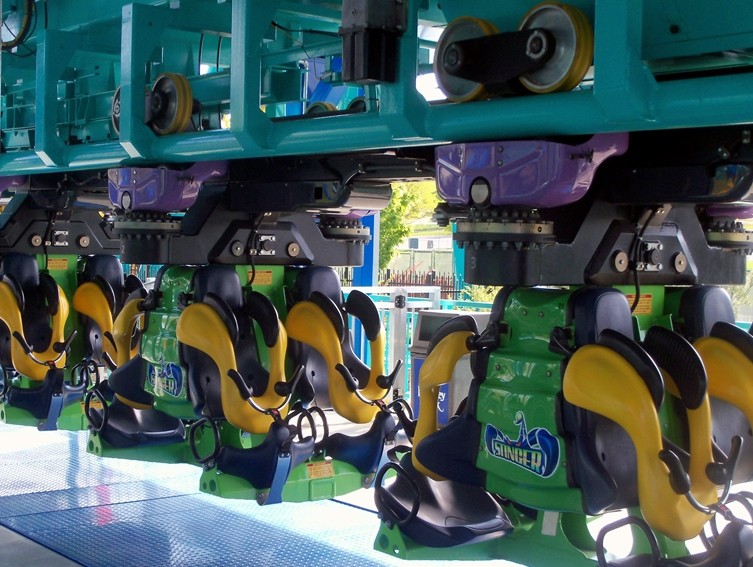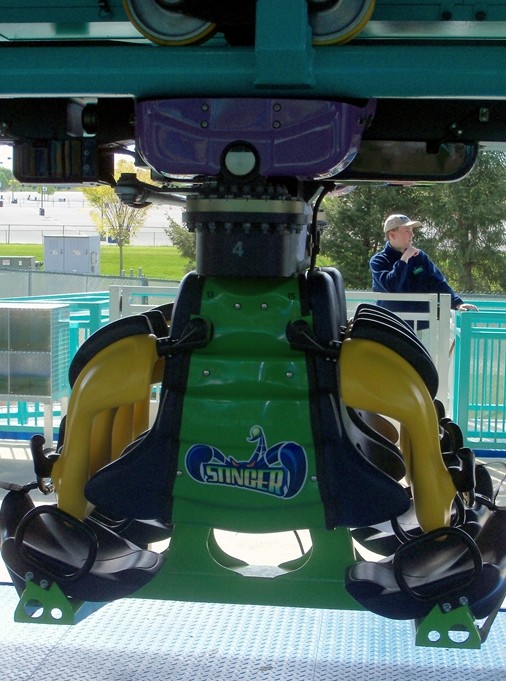 Shortly after, it was time to ride! The ride was BUTTER SMOOTH, enough said. I must say that I love this ride better than Sidewinder and its new train. I rode on one of the sides that faces typically of your normal boomerang (aka Sidewinder) but depending on either way you rode it, the experience was totally worth it. I must say that I take back anything that I've ever said about this being a waste of money for the park but IMO, it was totally worth the investment. After visiting Kings Island for my second time three years ago, I must say that I wished I would've had the chance to experience their Invertigo, I know it would've definitely delivered the same excellent ride experience that was provided by Stinger.
After our first ride was over, the park took a group photo of all the first riders and their "guests" in front of the coaster and mentioned to us that they would send the photo to everyone in the group via email which I thought was really nice. Overall, the park handled the "first rider experience" perfectly! After taking our group pic, the ride was officially opened to the public and I opted to take another spin on the ride. Well soon enough the ride broke down before I had the chance to ride again but I did manage to snap a photo of some of the "first" public riders on board the ride: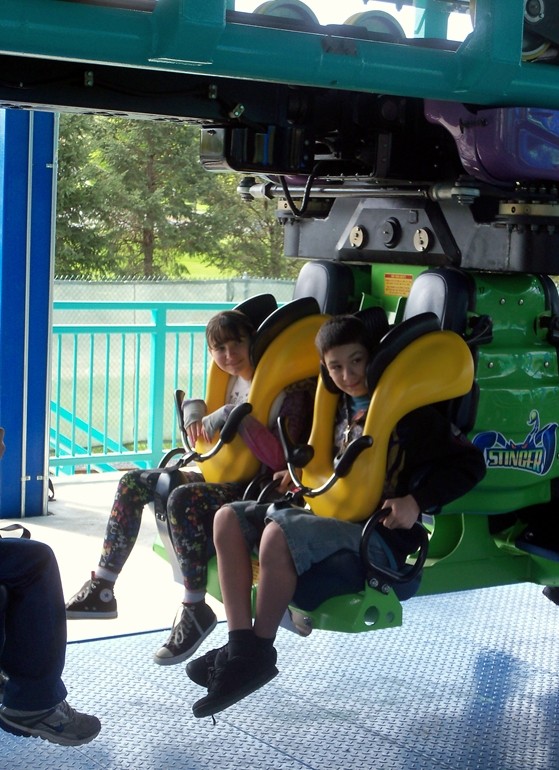 Looks like they're having a grand time on probably one of the best coaster concepts ever created by Vekoma!
Here are a few more shots and angles of the ride: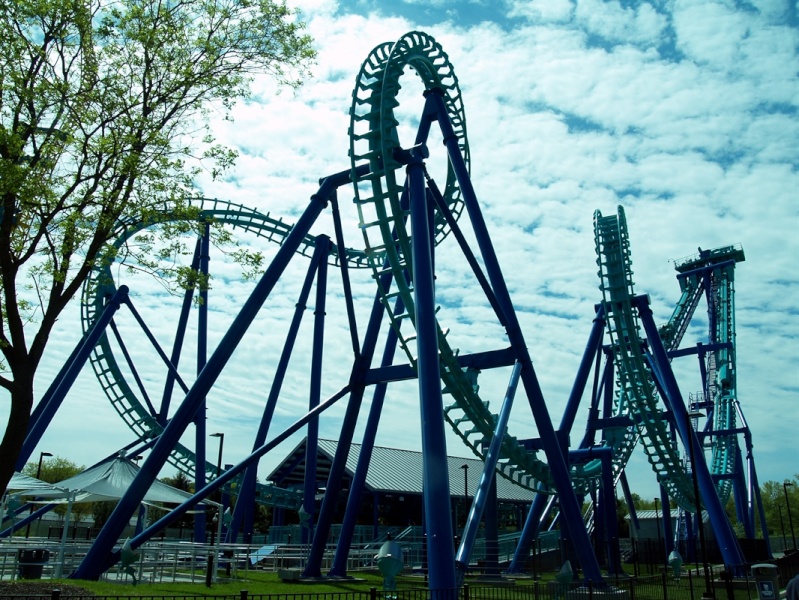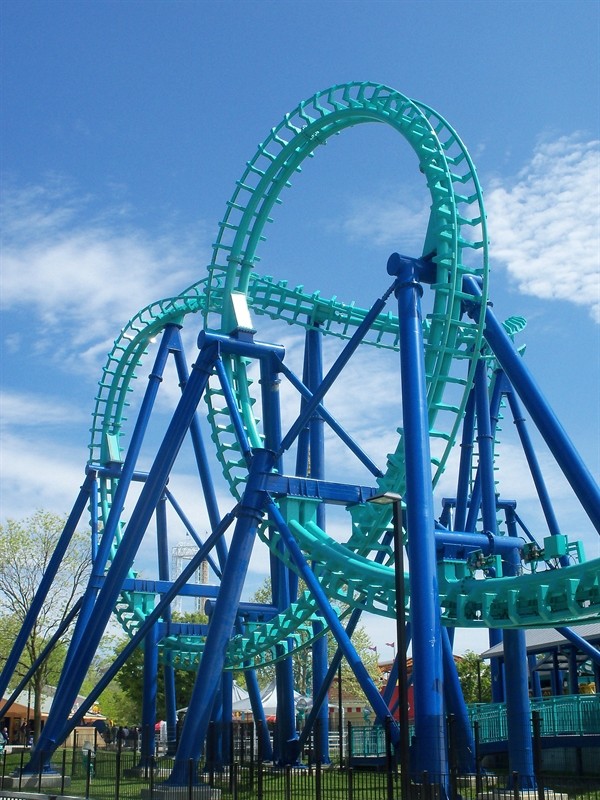 My next coaster was Steel Force. Having ridden this for the first time back in 2006 and being a little rough back then, I must say that this time it ran pretty smoothly. Pretty much a walk-on or one train wait with two out of three trains running. Rode in the front row, best place to experience this awesome ride! Something else I also took notice was that they must've repainted the track a season or two ago, it looked pretty nice.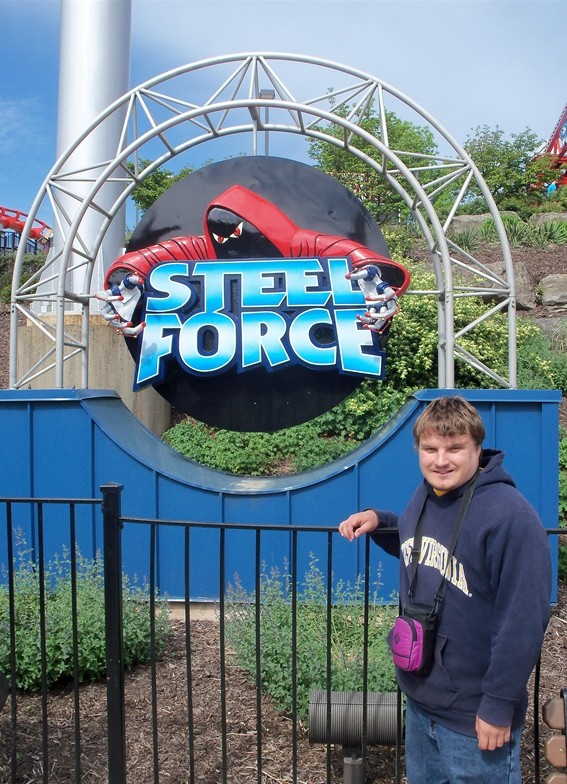 Alex having a Kodak moment in front of the entrance sign.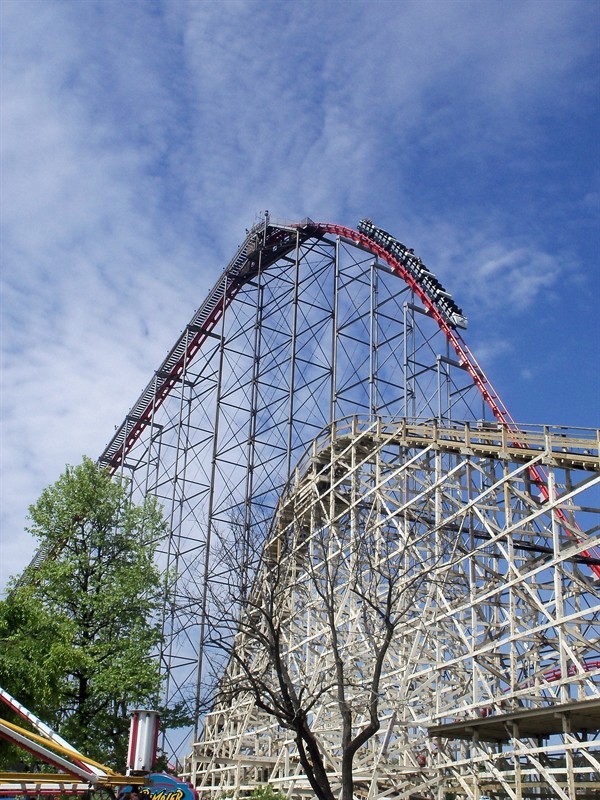 Also adjacent to Steel Force is the Dinosaurs Alive attraction. While we didn't experience it, I did manage to snap a pic of the entrance to the new attraction: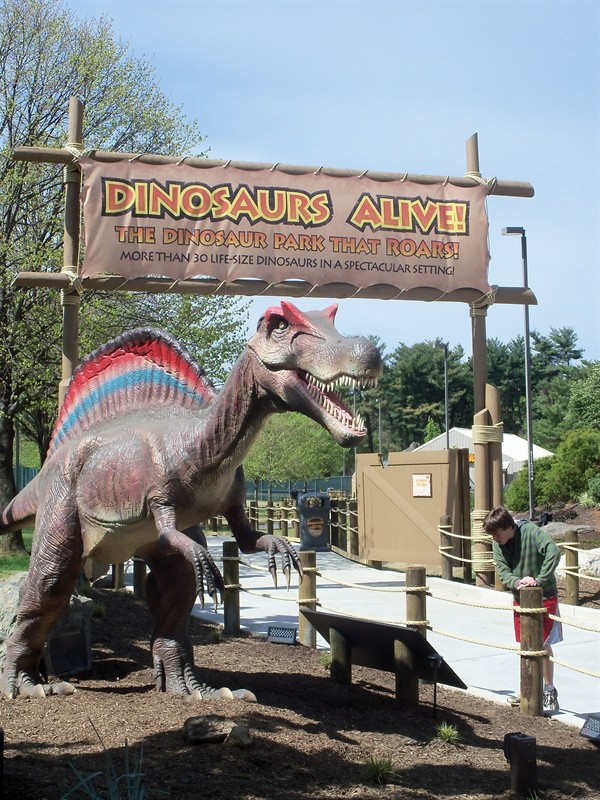 Hmmm, dinosaurs and coasters - a very unique mix...
My next coaster was Thunderhawk. Was a one train operation. Rode twice in the second/third row which were walk ons. Looks like this ride received some serious retracking in the off-season but overall, it still beats you up. I really do think that Dorney could learn some lessons off of Hershey and Knoebels on how to better maintain a wooden roller coaster as Comet and Phoenix still overly surpass this ride.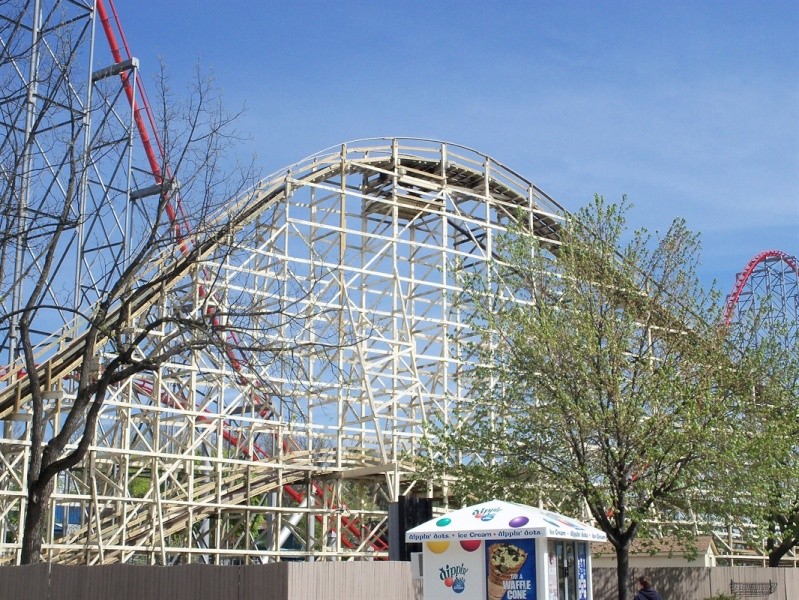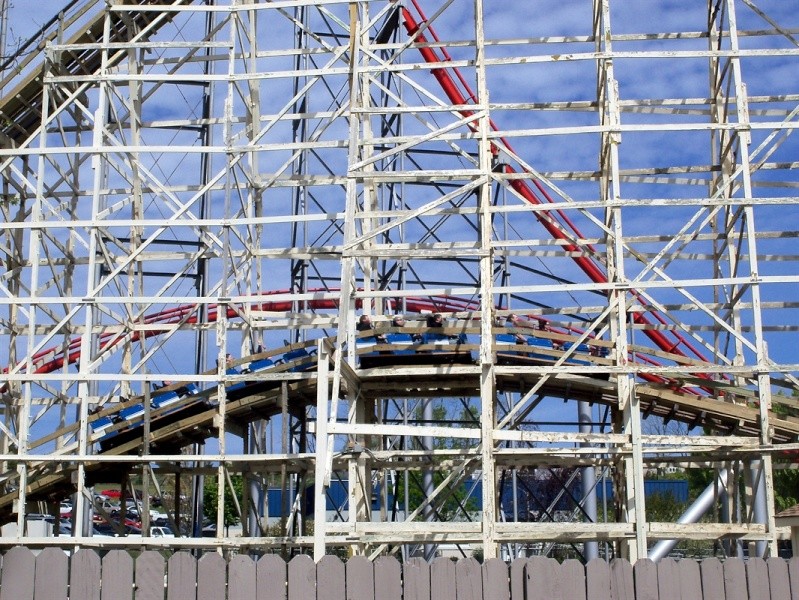 As you can see in this image, the ride is in desperate need of some new paint.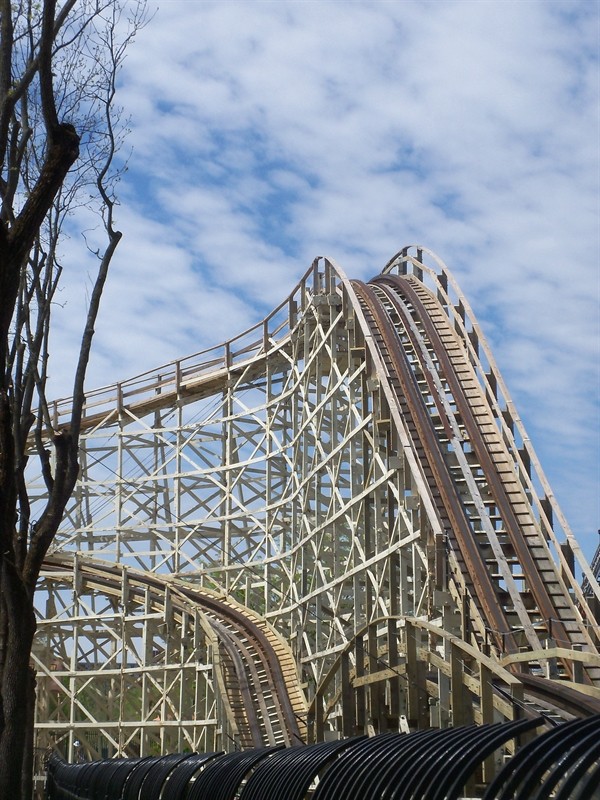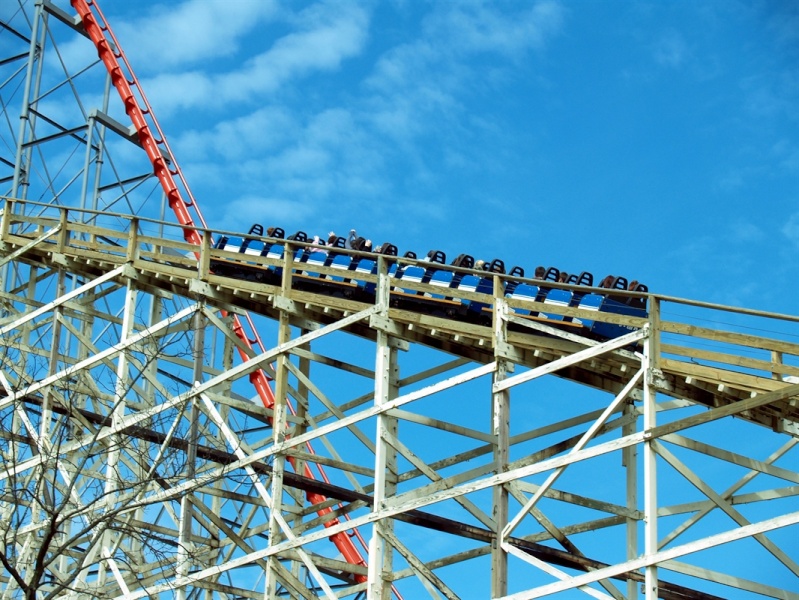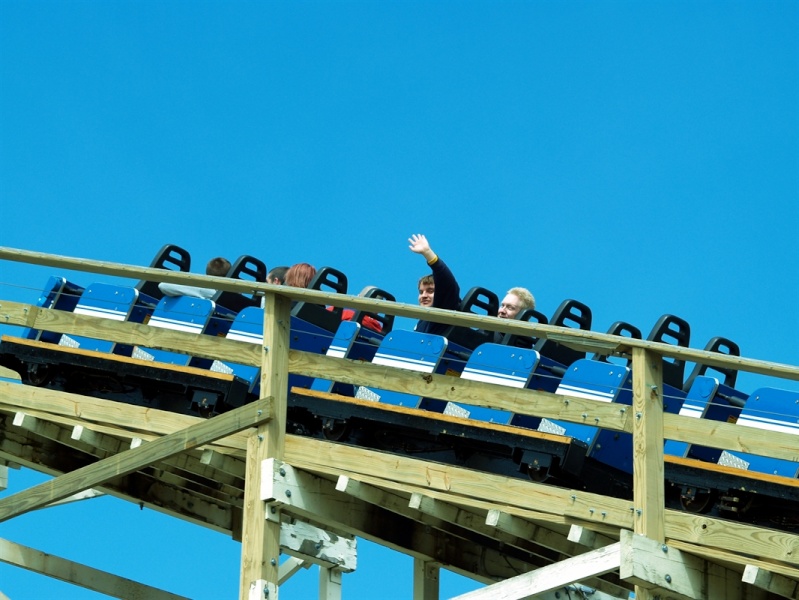 Here's Alex and I going up the lift.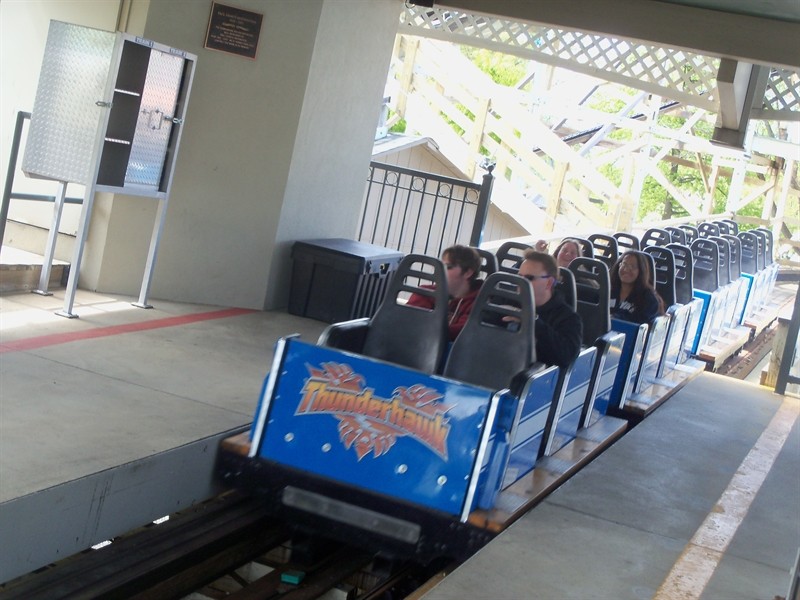 After riding this, I really do think that Dorney is in desperate need of another wooden coaster. Either a GCI Twister with Millennium Flyers or an Intamin pre-fab woodie would do wonders for this park.
While I didn't ride it, I do have a few pics of Possessed. This ride wasn't here on my last visit and really does fit into this area of the park quite nicely: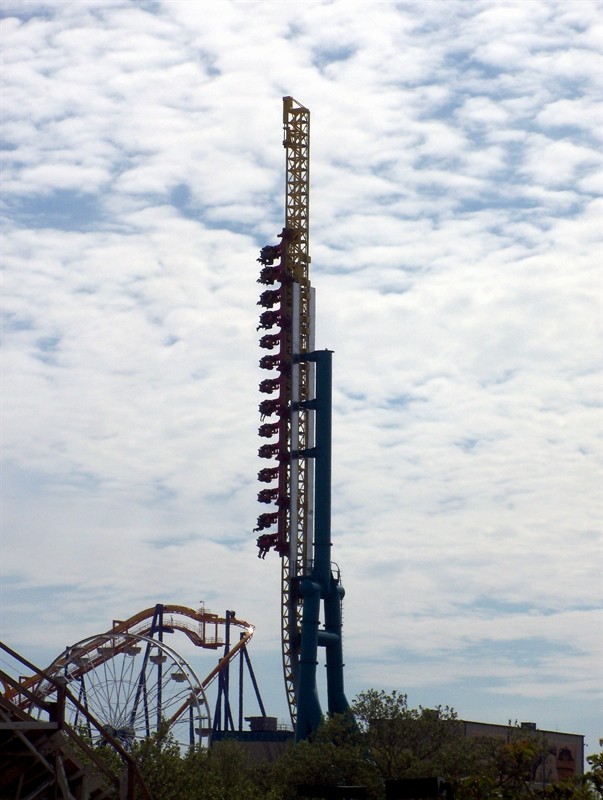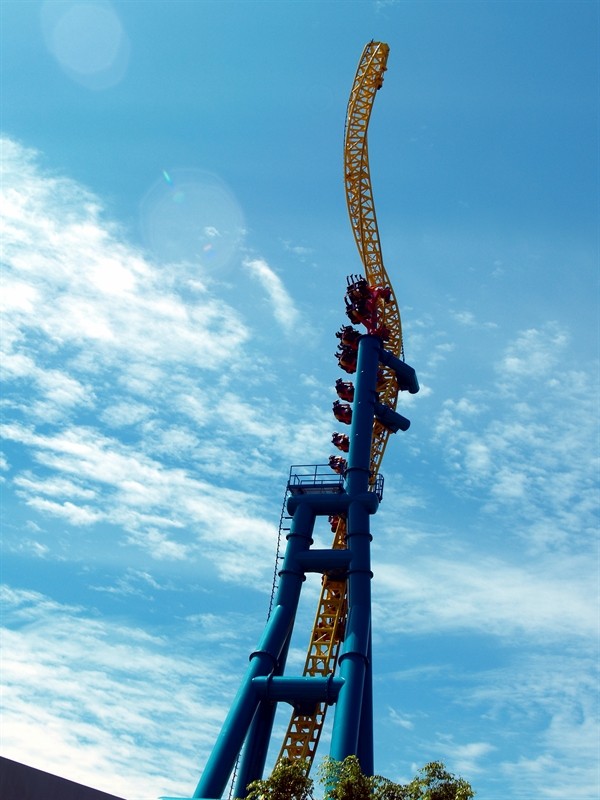 I managed to ride Hydra twice during this visit with either a walk-on or one/two cycle waits for a one train operation (rode both the front and towards the middle). The ride ran pretty good and felt intense throughout (in comparison to my 2006 visit), especially in the jojo roll out the station. Overall, still a nice smaller B&M Floorless worth checking out!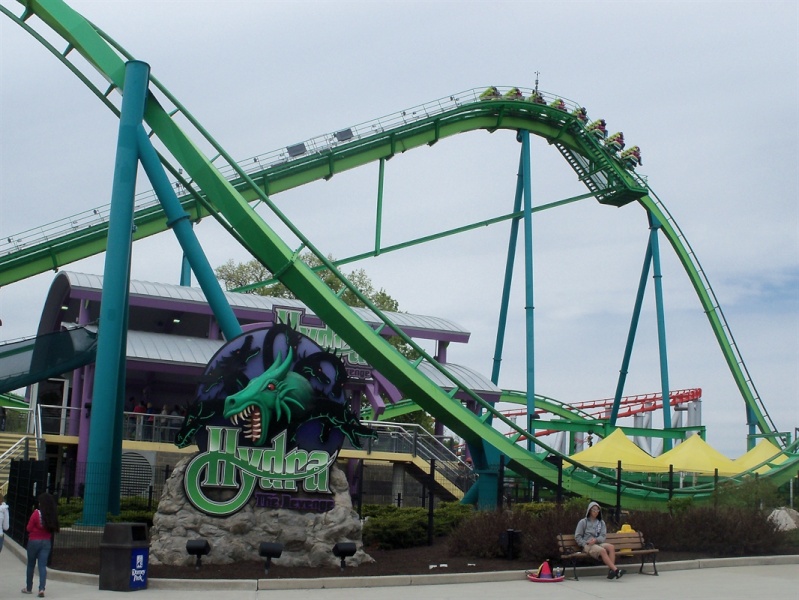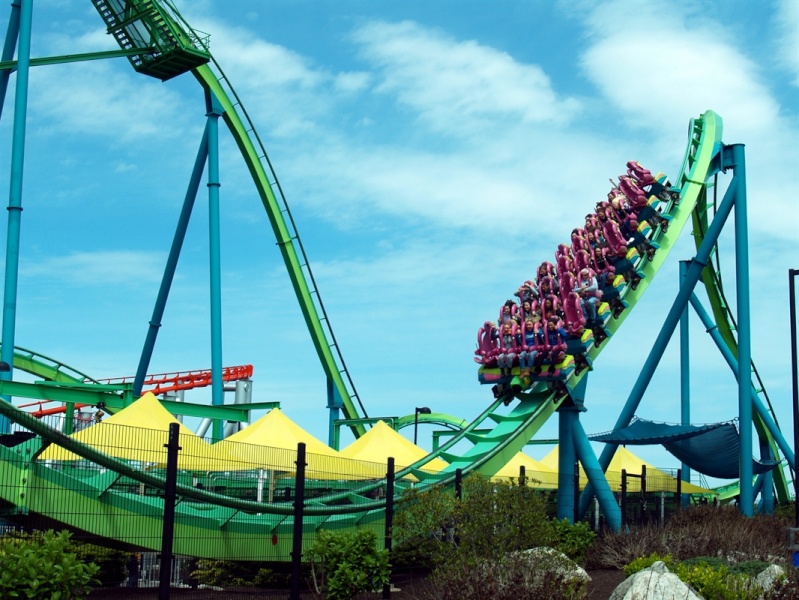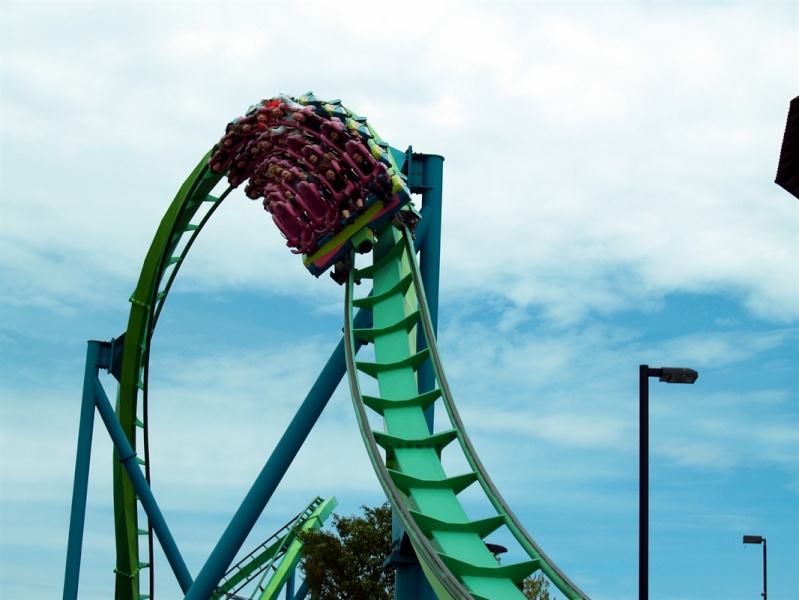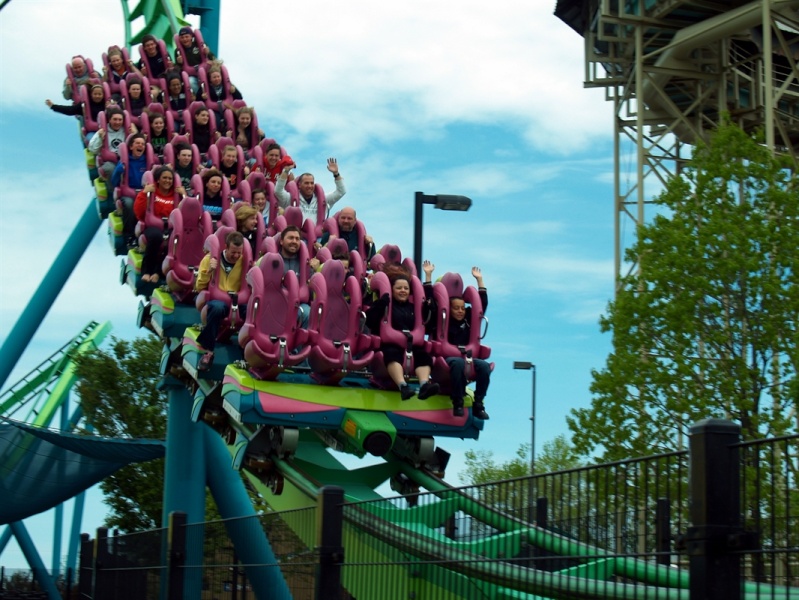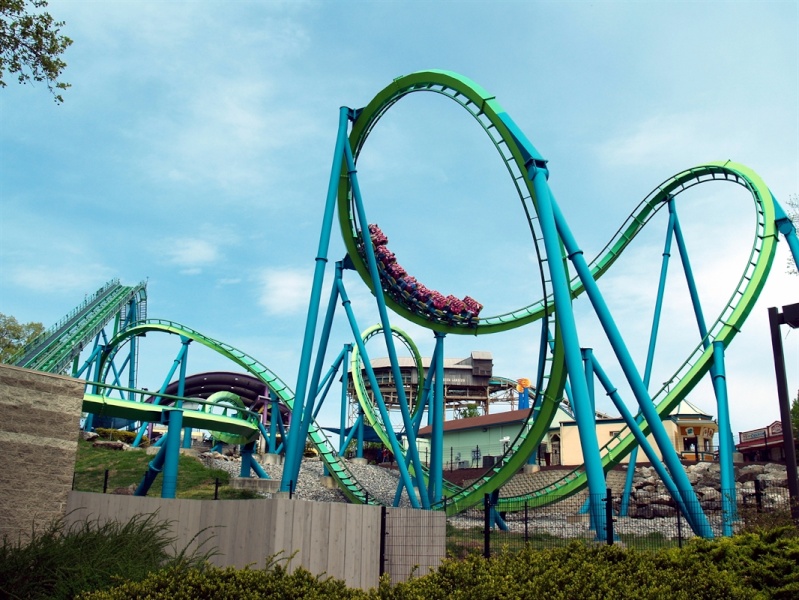 Dorney Park's Wild Mouse, while similar in style to Hershey's, definitely has its flaws. While this was the shortest I've ever waited for this ride out of my three visits total, the load/unload process at this ride stinks - enough said. Unlike Hershey's continuous moving trains through the station while keeping the line moving, Dorney stops each train to load/unload along with the addition of seatbelts which must also be checked. Along with this, the trims are applied much more, making for a less thrilling ride. Other than this, just a regular standard Wild Mouse experience. If you've been on one similar, you've been on them all.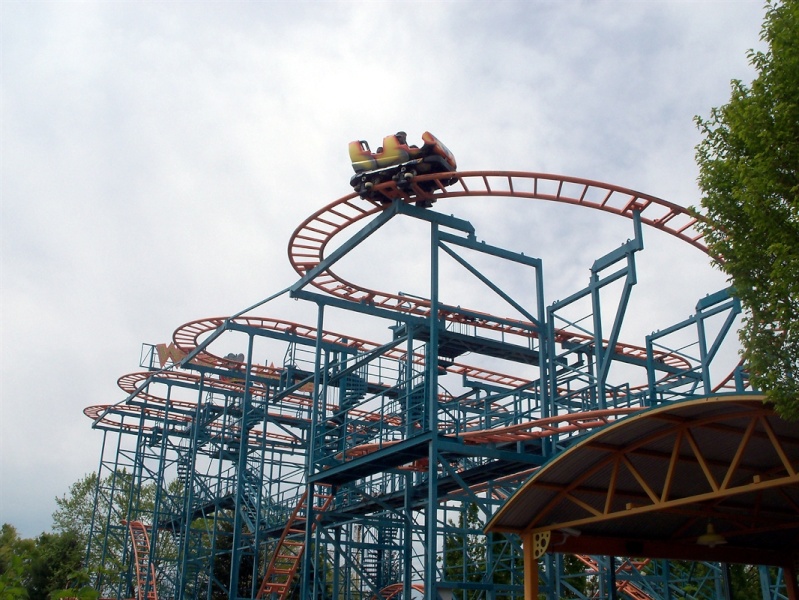 Just a few captions of some of the riders' expressions of their Wild Mouse experience: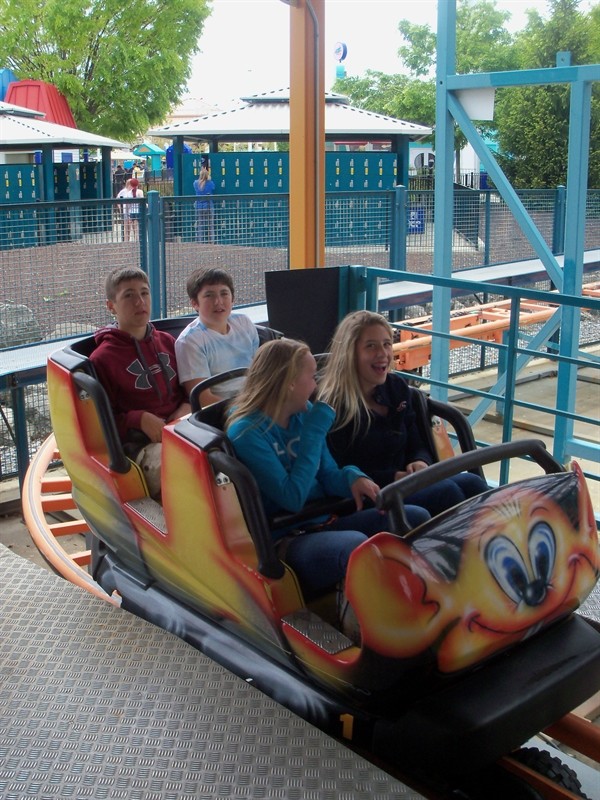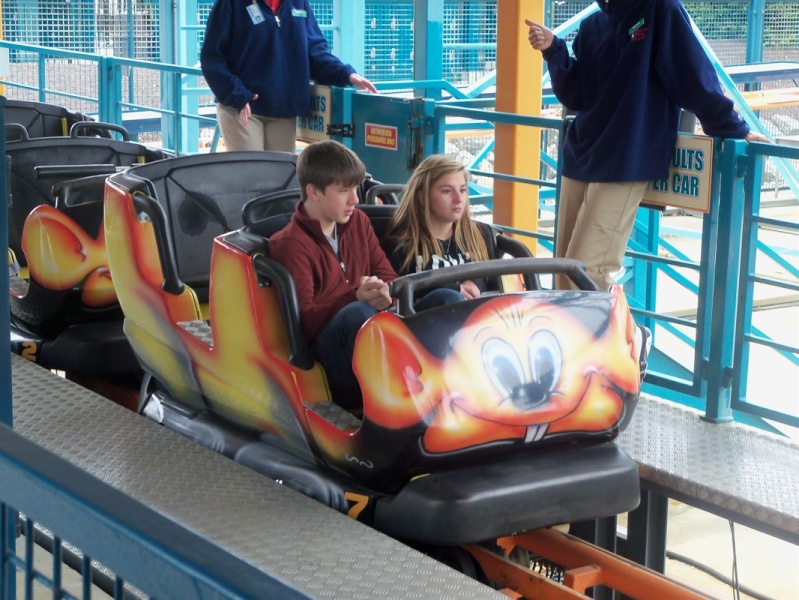 Talon is still one of the best B&M inverted coasters out there. They also had one train running which backed up the line a bit, making this my longest wait for a coaster all day. I rode in the second row and it still continues to deliver that same awesome experience that I totally remember from 2006. IMO, worth checking out on a trip to Dorney.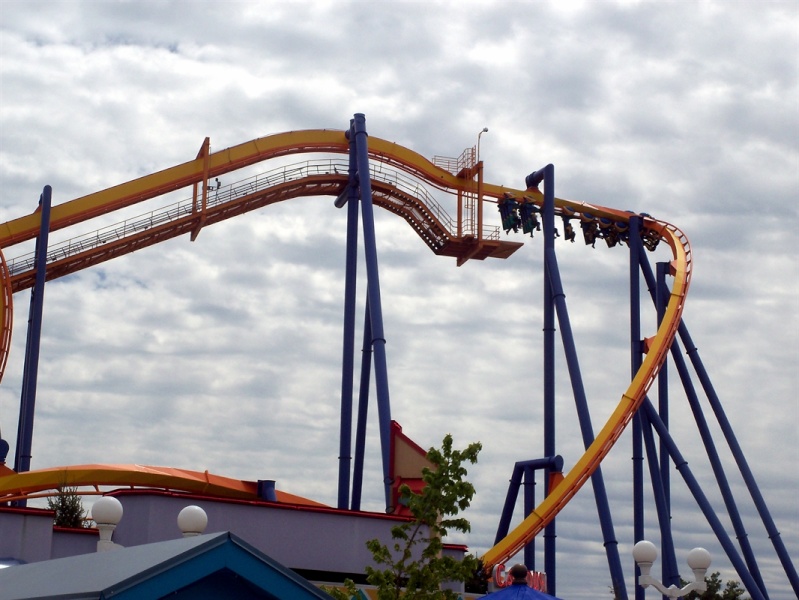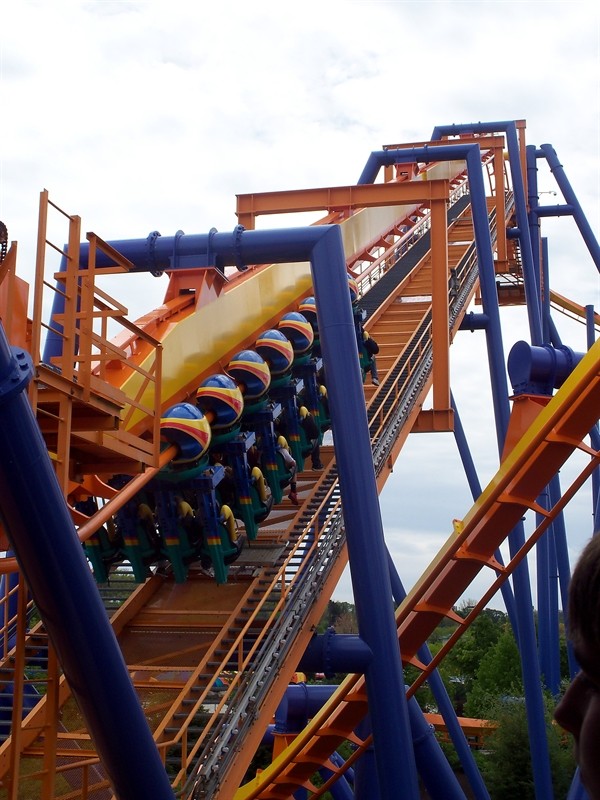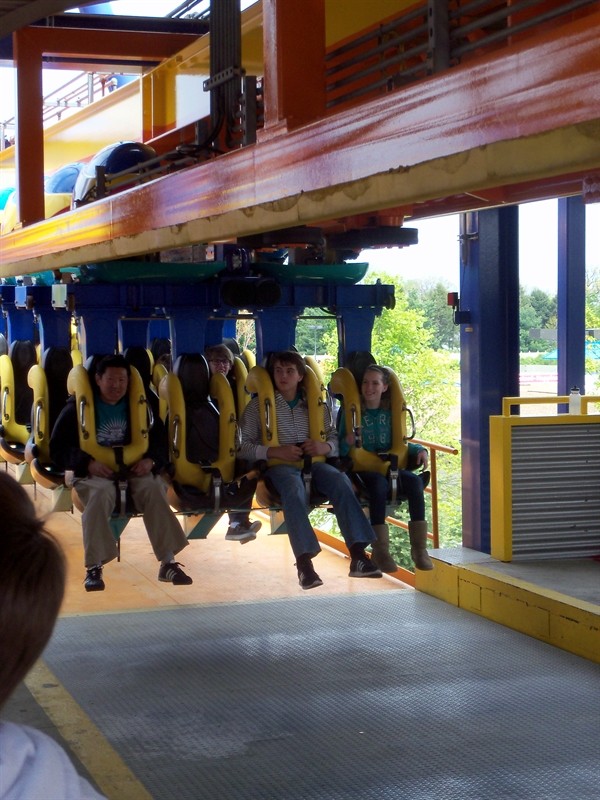 During the middle of the day, we stopped for lunch at Coasters Drive-In, a place common in most of the Cedar Fair parks: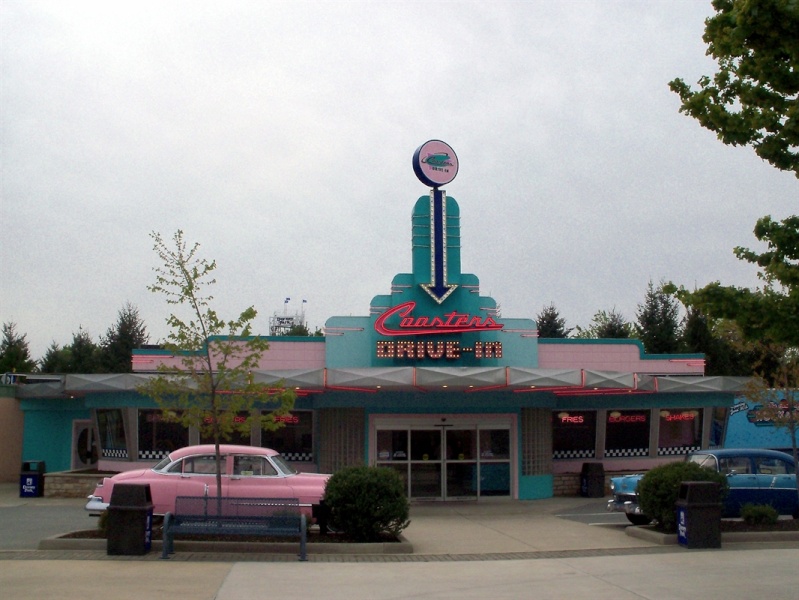 This was the first time I ever ate here out of my previous visits to both Dorney Park and Cedar Point. It's a nice a little place with 50's themeing. My dad and I had the personal pizza basket which consisted of a personal pizza (about the size of one you would get at Hershey) and a basket of fries, while Alex had a chicken salad, which was a pretty nice size. The pizza was good and wasn't a brand-name, unlike Famous Famigila's at Hershey. Overall with the food and theming, it was one of the better deals in the park, since most of the food throughout the place was overly priced.
We also took a stroll through Planet Snoopy. The last time I was here, this area was still Camp Snoopy. This makeover was well needed as the area was brighter with more brilliant colors and more rides for the kids. Overall, I was impressed with it for a park children's area.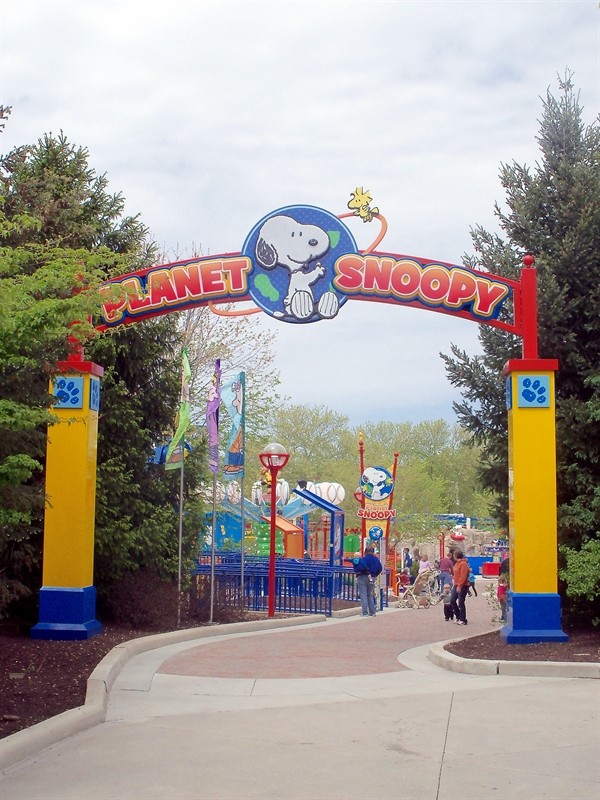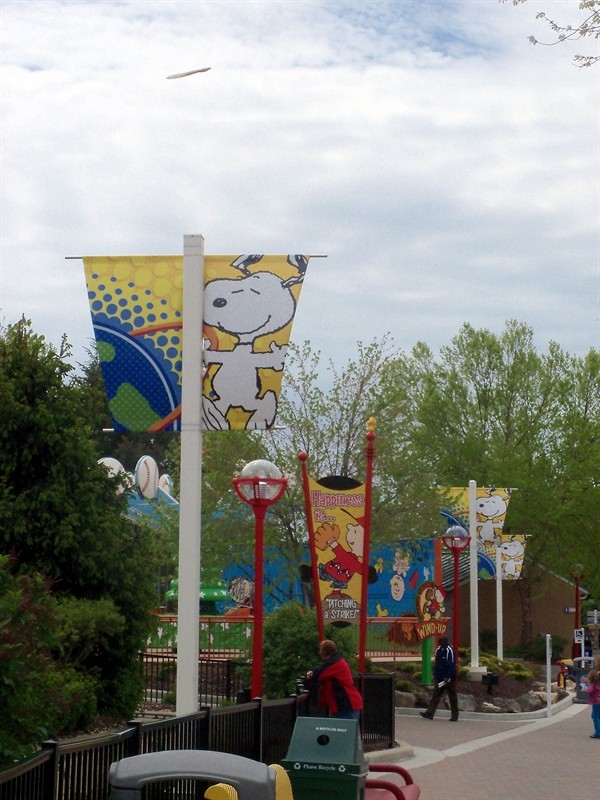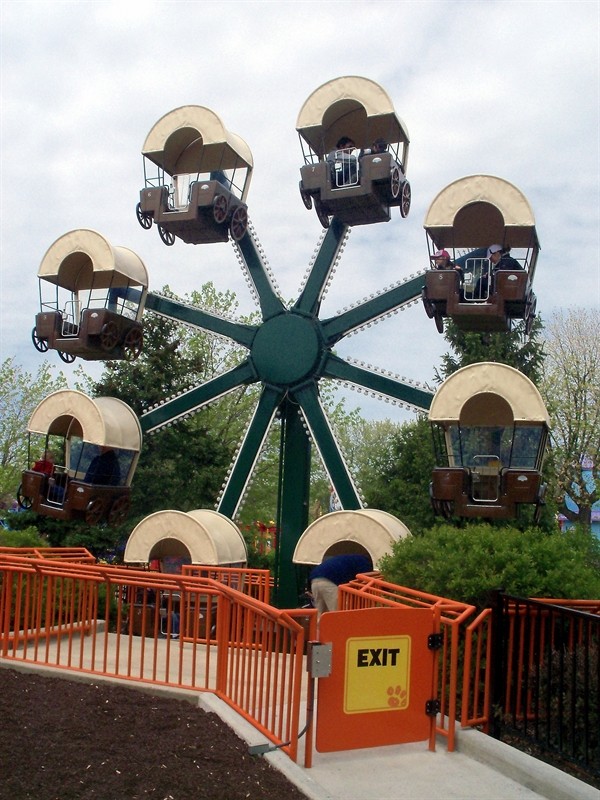 Despite the cooler temperatures, Both Thunder Creek Mountain and Whitewater Landing were both open and running and yes, there were riders aboard both!
Thunder Creek Mountain's station structure always reminded me of how the Der Deitchplatz/Craftbarn area at Hershey is designed.
On a side note, Thunder Canyon (the park's rapid ride) was closed and I took notice on the map that they had that area marked down with a light blue path along with the waterpark. I'm assuming they now have the ride operating with the waterpark's Memorial Day to Labor Day operating schedule.
While I didn't ride it, I managed to snap a few photos of Demon Drop. The ride was running two cars and appeared to be running very well. It's hard to believe that I saw this ride operating at Cedar Point three years ago and now it's only an hour and a half away from where I live....small world lol.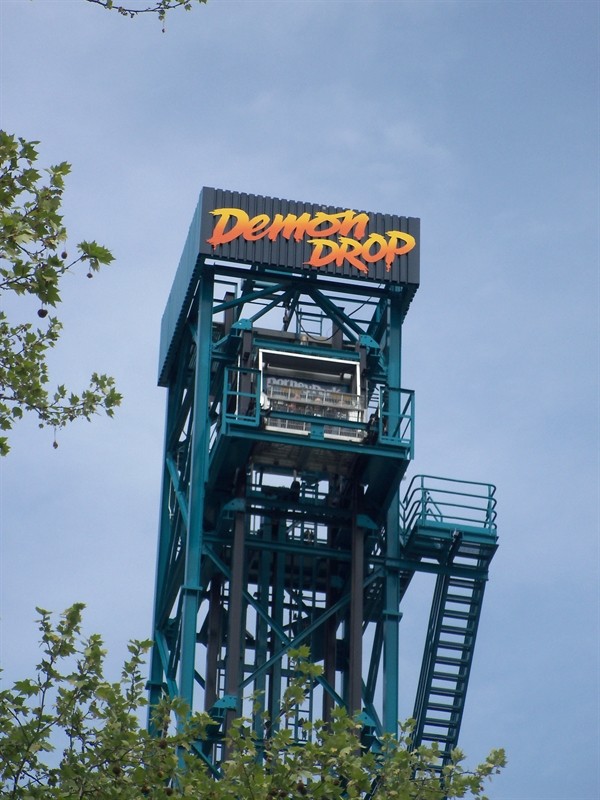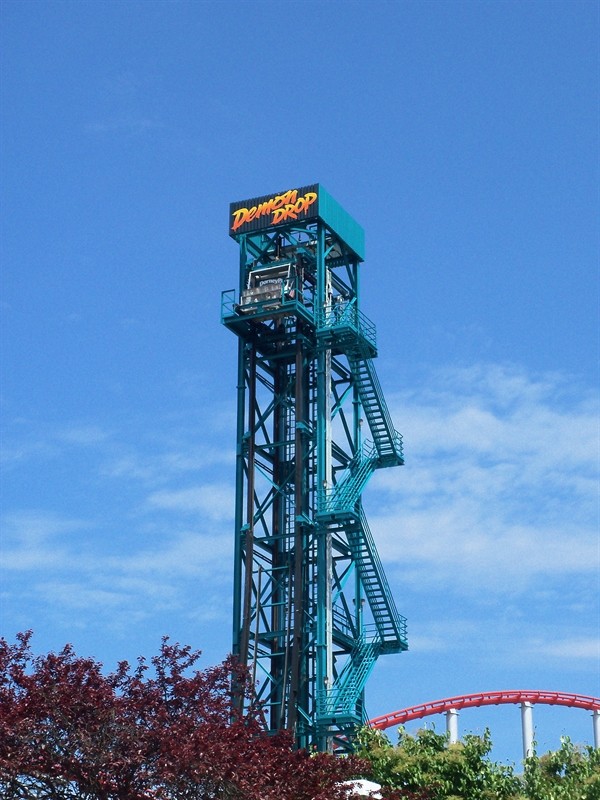 We also took a break and rode both of the park's trains: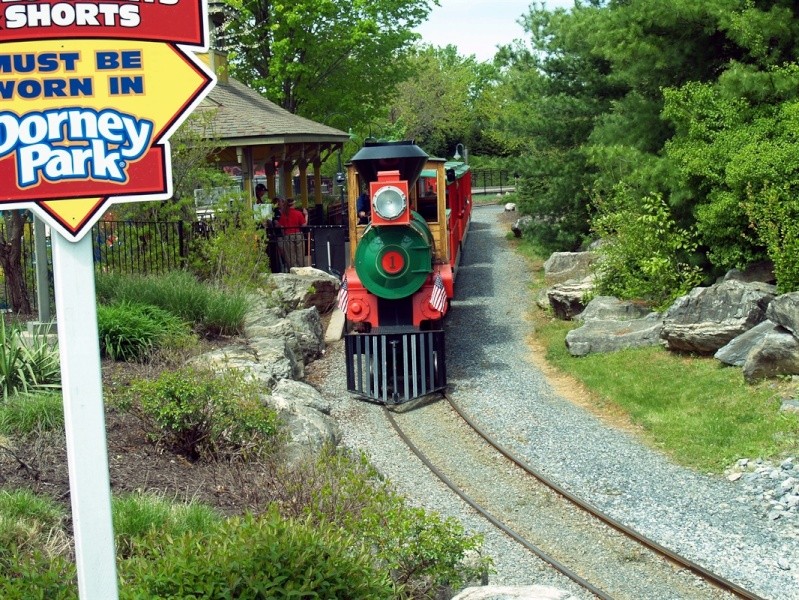 The first one we rode was the park's newest train, the Cedar Creek Cannonball. When I first visited the park back in 2000, this ride originally had a longer route with a second station over at the waterpark, making for a great way to ride over there without the extra walking. When Talon was put in the following year, they shortened the train's route to go mainly around Thunder Canyon and now is just a round-trip ride.
The second of the two that we rode was the Zephyr train, one of the park's oldest rides along with the Whip and Thunderhawk. According to my Images of America (Dorney Park) book that I purchased back during my 2006 visit, this ride was custom built in the 1930's and helped save the park from closing during the Great Depression. I'm very happy that Cedar Fair chose to continue to operate this piece of Dorney Park nostolgia for many more generations to enjoy!
Just a few random flat ride pics for your flat ride fix: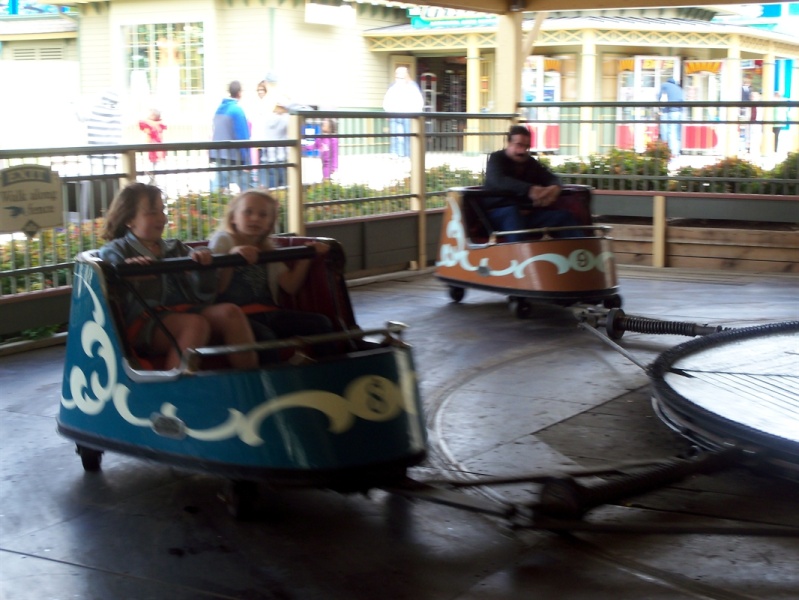 As I had mentioned, the park's Whip is one of the older rides that Cedar Fair continues to operate. I must say that I loved the older versions of this ride better than the newer modern versions (Hershey)....they just have more of that whipping effect feel to it when rounding the ends.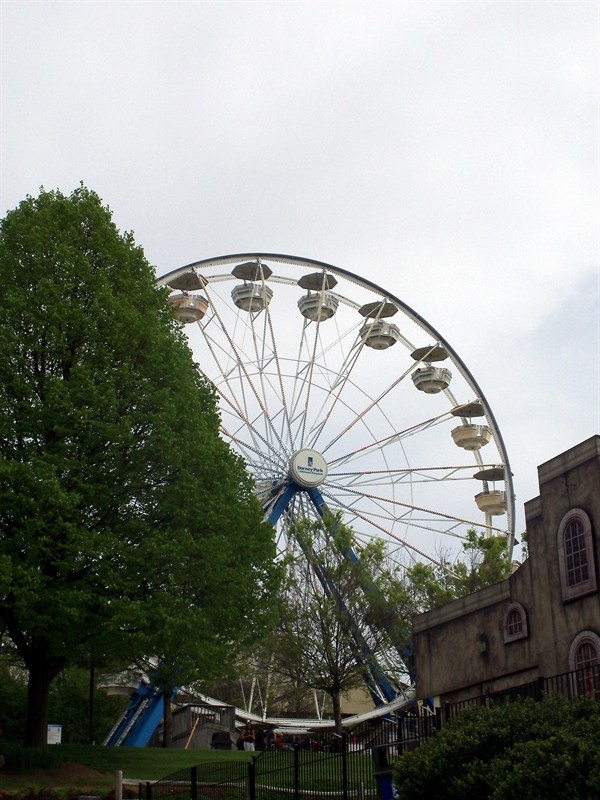 The ride operations at the Ferris Wheel have a lot to be desired. While there wasn't that much of a line, the attendants were very slow at loading and unloading and only utilized one out of two gondolas per switch. When it finally came our turn, they had technical difficulities and had to shut it down. When I rode Hershey's version recently at Springtime in the Park, there was a longer line but the attendants kept it moving and loading/unloading riders. Needless to say, Dorney could learn a lesson off of Hershey as far as loading/unloading their Ferris Wheel.
One of the few Huss Enterprises still operating that I know of. Glad to see Dorney still maintaining it.
We left the park around 4:30 and stopped at the McDonald's across the street for a quick bite to eat prior to leaving for home. Definitely much cheaper than the park food to say the least. Overall it was an excellent day, decent ride operations, minus the few flaws that I've mentioned in this trip report, great weather (although a little cooler) and light crowds. Definitely worth it for being a trip on short notice, plus the free goodies for being a Stinger first rider!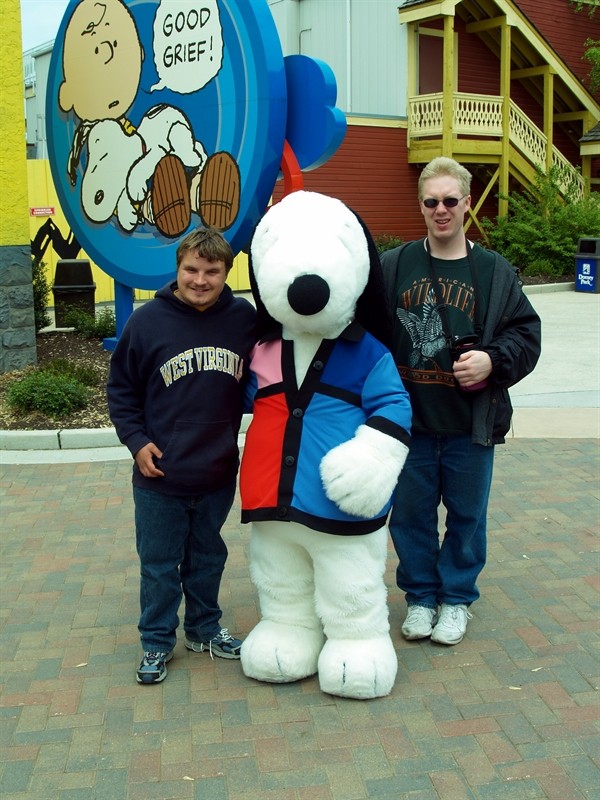 And I end this trip report with a shout-out from All-American Thrills and Snoopy! Thanks for reading and enjoy!


__________
SKYRUSH - Ride the Edge!
Admin





Posts

: 447


All-American Rewards Points

: 652


Reputation

: 70


Join date

: 2011-12-28


Age

: 35


Location

: York, PA



Awesome PTR! I hope to visit Dorney Park one day because it looks like a fun CF park, just like KBF or CP (IMO of course)
Hyper Coaster Level





Posts

: 283


All-American Rewards Points

: 341


Reputation

: 26


Join date

: 2012-01-23


Age

: 20


Location

: (currently) Washington State & Los Angeles, CA



GREAT Update and report Matt. Congrats on first rider out. Your pics of the park are beautiful. Maybe the next time ALT comes out to Dorney, I'll join ya. (As long as its after June 1st.) Been going to Dorney as long as I've been going to Hershey.
Kiddie Coaster Level





Posts

: 5


All-American Rewards Points

: 10


Reputation

: 5


Join date

: 2012-03-18



GREAT update! I really enjoyed it. Since I was never at Dorney Park, this really help give me a feel of how the park is. I look forward to hopefully making it there this summer/fall!

Admin





Posts

: 440


All-American Rewards Points

: 530


Reputation

: 11


Join date

: 2011-12-28


Age

: 21


Location

: Lebanon, Pennsylvania. Hersheypark





Similar topics
---
Permissions in this forum:
You
cannot
reply to topics in this forum